Autumn Town, A place we all know from last year has been brought back today for Royale users to explore. Some people do not know where to get the candies and that's why I am here to show you how to get candies!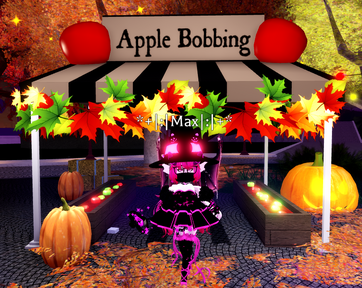 Apple Bobbing is one of the ways to get more candies however, it doesn't always work like the Limbo in the Old Royale High. Apple Bobbing gives you 10 candies each time you get an apple, I got 100 candies when I was  Apple Bobbing earlier so this does help a bit.
In Autumn Town, You are able to drive a car/fly to neighborhoods.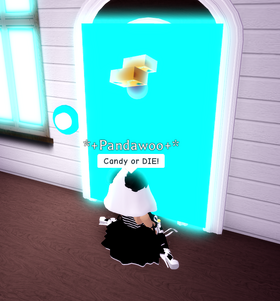 Inside of these neighborhoods, You're able to get more candies. Usually around 5-10 candies per house. You walk up to the door and click the doorbell in order to receive the candy, once the candy has been given you are able to collect it. Sometimes Slendermen will be waiting for you. When your done getting all the houses candies you're still able to go back to those houses after and get more, the houses take some time after getting candy though.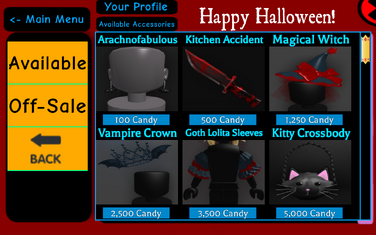 You can use the candies in the shopping menu on the right side of your screen. Spider earrings are 100, Kitchen Accident is 500, Magical witch is 1,250. The vampire crown is 2,500 while Goth Lolita sleeves are 3,500 and Kitty crossbody purse is 5,000.  Below the Purse is the Nocturnal Kitty ears which are 10,000 and the Magical witch broom up for 50,000 candies. have fun trick or treating on Royale High~!==
Community content is available under
CC-BY-SA
unless otherwise noted.