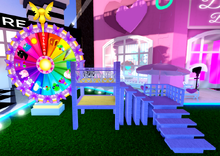 The town wheel (also known as the Lucky Spin Wheel) is an interactive object in Earth that can be spun every 20 hours by players, to win either diamonds or an accessory. Players can also win nothing or death.
The original wheel was only accessible for players that were level 5 or above, however, the level requirements have since been removed. It was shut down for maintenance on April 23, 2019, and officially removed a week later. It then returned on May 24, 2019, with new accessories. Before the Sunset Island update, new accessories were added in, with some most likely to help with the pageant themes. It was first implemented on Earth during the Halloween 2018 update.
All wheel reward accessories cannot be traded. The Cane was an exception to this for a time, but this was unintentional and corrected on June 30, 2020.
Appearance
The town wheel is a large, colorful wheel, located in front of the Designer Boutique. It has 16 prize slots, each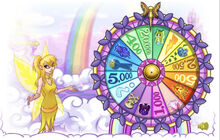 with a different color and a unique symbol that corresponds with its partner(s). These symbols include diamonds, a "nothing" label, treasure chest, sun, dragon head, mystery gift, skull, mermaid, alien head, unicorn, sword, and diamond pouches.
During the "Maintenance" period, the prize slots were removed and the wheel was completely light pink. A lighter pink label that read "Down For Maintenance" replaced the prize slots.
The wheel's design appears to be inspired by the "Wheel of Excitement" from Neopets.
Prizes
When spinning the wheel, the prize wave chosen determines the accessory options the player can win. Prizes are determined independently from the spot on the wheel and will line up with the spot that the winning selection applies to. If you have landed on a prize that you already own, you will instead receive 300 diamonds.
Diamonds
Particular diamond amounts can be won by the various diamond spots on the wheel. Known possible values to obtain are:
50
100
125
150
175
200
300
350
500
750
1,000
2,000
3,000
4,000
5,000
6,000
10,000
Accessories
Various accessories can be won from the wheel. Receiving a duplicate accessory (though not that the duplicate attained is known) awards the player with 300 diamonds instead.
Community content is available under
CC-BY-SA
unless otherwise noted.