Trading offers are NOT allowed on the Royale High Wiki
Accounts that post or imply making offers are subject to being warned or blocked from the wiki.
Do NOT post offer content on comments, user pages, walls, or discussions.
Offer questions such as values, fairness, etc. are also banned.
Please be respectful of our community rules. Thank you!
Welcome to the Royale High Wiki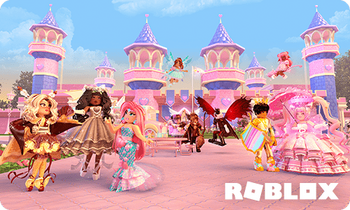 Royale High, formerly Fairies and Mermaids Winx High School, is a high school themed roleplaying game on Roblox owned by callmehbob and made by its development team. It is set across multiple magical realms as a world for royalty, fairies, mermaids, and other magical creatures.
The game was first created on 4/10/2017 as Fairies and Mermaids Winx High School, and Royale High beta was first released in November 2017.
Read more about the game here, or on the Roblox Wiki.
Please contact for questions or wiki mod concerns.
We are NOT affiliated with callmehbob or the development team of Royale High!
---
Discussions Moderator (?)
New halo - Mermaid Halo 2022
Badge for being top 500 in level leaderboard added
Multiple new celebrity ("you met") badges added
Fairytale Princess Braid hairstyle edited, bangs can now be worn separately
Previous seasonal events still ongoing - will persist until next major update
Egg Hunt 2022 event (ongoing)

Replacement of Easter events
Play in Divinia Park, participate in the Egg Hunt to earn Golden Eggs
Redeem Golden Eggs for Accessory Eggs or Diamond Eggs
Four new accessories + all previous Easter items obtainable from Accessory Eggs

Dewdrop Showers 2022 event (ongoing)

Replacement of St. Patrick's events
Play in Royale High Campus 2
Wait for when it rains to obtain old event accessories
last updated by wiki staff on June 8, 2022
---