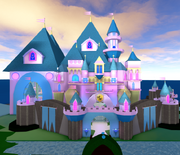 Royale High is a fantasy school roleplaying and dress-up game on Roblox. It utilizes the universes feature on the Roblox platform to play across various realms set in different environments.
The game was originally called Fairies and Mermaids Winx High School, functioning as a Winx Club fan roleplay game. The Enchantix realm remains in game from the last iteration of this version of the game before it transitioned into its own intellectual property in 2017.
Realms
There are many realms to explore and roleplay in: The apartments, Royale High New Campus, Classic Campus, Sunset Island, Enchantix High, Fantasia Getaway Resort, Earth and Divinia Park. Some realms are there for a limited time such as Autumn Town, which comes and goes during the Halloween season, and Divinia which was introduced on February 1, 2019, and then retired on August 31, 2019.
Events
There are many seasonal events in Royale High, including New Years, April Fool's, Independence Day, Valentines, St. Patrick's, Easter, Halloween, and Christmas. Players will receive badges if they played during the event
Developers
Callmehbob is the creator and lead developer of Royale High. She first joined Roblox on June 11, 2007.
Ironclaw33 scripted Royale High and created the scripts that operate the lockers, homework GUIs, dorm customization options, elevators, and many other things throughout the games. She joined Roblox on October 19, 2008.
Closet Skeleton is the Graphic Designer for Royale High. He also drew the teleportation map. He began working on the game in May 2017 making him one of the longest running developers of the game.
Ice7 is a scripter for Royale High who began working in May 2018. He has scripted the new Inventory design, Outfit Transformations and trading. He also tends to fix bugs and glitches within the game. He joined Roblox in June 26, 2007.
LauncelotHandsome is a developer for Royale High, and according to callmehbob, he sometimes makes animations for the game, as well as hiding diamonds around different realms. He has also designed the terrain around a few of the Royale realms, though it has not been disclosed which ones. He is married to callmehbob. He joined Roblox in June 23, 2016.
Sukimeki is a modeler, mesh and texture designer for Royale High. She has created many different skirts, heels ,and wings designs. She has also created several hair meshes, along with colours and textures to go with them. A few of her designs include the Halloween/2018 deck and the Moonlight Goddess Ultimate Floof skirt. She first joined Roblox io January 22, 2018.
Kateka22 is a writer for Royale High, having written the fountain stories, and NPC dialogue. She was the developer and creator of Wizard Adventures based on the Harry Potter book series. She joined Roblox in July 8, 2016.
Game thumbnails
The permanent game thumbnails are either created by the game's developers or contributed edits from the community.
Roblox toys
There are multiple Roblox Toys that have been made themed from Royale High. Two of these toys, with the item code redeemed, offer rewards in-game.
Mascot
Aisha is a fictional character and the official mascot for CallMehBob's Royale High Game brand as well as Aisha's diamonds which consists of fantasy, princesses, and realms.
Some princesses are reigning monarchs of principalities. There have been fewer instances of reigning princesses than reigning princes, as most principalities excluded women from inheriting the throne. Examples of princesses regnant have included Constance of Antioch, princess regnant of Antioch in the 12th century.Since the President of France, an office for which women are eligible.
Community content is available under
CC-BY-SA
unless otherwise noted.