This article is incorrect, outdated, or otherwise needs improvement.


Help fix the page

by editing it

.

The specific problems are: Halloween Stands, and past needs organizational rewrite.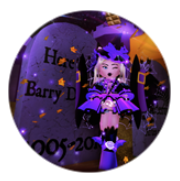 The Halloween event in 2018 gave Earth a spooky makeover, there were many pumpkins, tombstones, and other spooky decorations. A new currency was added, along with many new accessories. Joining the game presented a cutscene where the camera zooms in on a tombstone with the player's username on it, along with a loud crash of thunder.
Playing during the Halloween 2018 event rewarded the "Halloween 2018" badge. You cannot obtain it anymore. This badge will show up in a player's Journal.
Trick or Treating
A new mechanic was added to the game for this event called "Trick or Treating". Above the player's diamond amount would show a random piece of candy, above the candy would say "Find someone spooky who wants this candy!", this showed which candy the player had to hand out. An icon of a a candy would show upon players heads, indicating this is the candy they want, if the player finds someone with the same candy that the player needs to hand out, on top of another player's head the player could click them, and select the "Give Candy" option.
After giving someone candy there is a 10-second cooldown until the player can give another player a candy. Once trick or treating with someone, the player recieves five diamonds for trick or treating. If someone trick or treats with the player, the player receives one candy for being trick or treated with.
Diamonds could be converted into candy, three diamonds is equivalent to one candy.
Items
Accessories
There were 7 limited time accessories to purchase during the month. The Halloween 2018 accessories were some of the first accessories in-game.
| Accessory | Price (Candy) | Price (Diamond value) | Image |
| --- | --- | --- | --- |
| Arachnofabulous | 100 | 300 | |
| Kitchen Accident | 500 | 1,500 | |
| Magical Witch | 1,250 | 3,750 | |
| Vampire Crown | 2,500 | 7,500 | |
| Goth Lolita Sleeves | 3,500 | 10,500 | |
| Kitty Crossbody | 5,000 | 15,000 | |
| Nocturnal Kitty Ears | 10,000 | 30,000 | |
Wings
There were also 9 new Halloween wings implemented for 2018.
| Wings | Price (Diamonds) | Image |
| --- | --- | --- |
| Rainy Graveyard Lurker | 6,500 | |
| Haunted | 6,500 | |
| Terror of the Deep | 6,500 | |
| Frankenfairy | 6,750 | |
| A Witch's Best Friend | 8,000 | |
| Extreme Terror of the Deep | 12,000 | |
Heels

The Bat-Mo-Heels were added on October 1st, 2018, and were sold for 33,000 diamonds.
The Bat-Mo-Heels were the start of the new design of heels from the developers as they incorporated the players roblox avatar legs, and allowed leg clothing to be worn with them. Previous heels had their own custom legs that would appear when worn.
Halloween Stands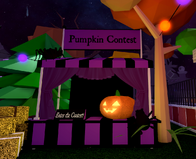 The Pumpkin contest was reintroduced for 2018. During this year, however, the pumpkin number was random for each server and when you guessed the correct amount of pumpkins, you got 2000 diamonds and the Pumpkin Contest badge. The badge does not show up on your in game profile.
Apple Bobbing was also reintroduced for the 2018 event.
For the Halloween update there were also Halloween drinks and the snacks at the shop next to Contest booth, but these varied from the 2017 event.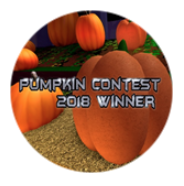 Halloween Halo 2018
The Fountain on Earth introduced Halloween themed stories written by Kateka22. The Halloween Halo 2018 was introduced, and only 8,855 people own it.
Trivia
This update was released for a couple of days, but then later removed due to technical issues, but then made a comeback a few days later.
Community content is available under
CC-BY-SA
unless otherwise noted.