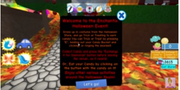 In October 2017, there was a Halloween Realm temporarily accessible until the end of the month. Users could teleport there using the Teleportation Scepter in Enchantix High. At the time, the game was still known as Fairies and Mermaids Winx High School.
Candies were available as a new currency (only during Halloween), which was brought back for the Halloween 2018 event.
Free broomstick rides were available on the hotbar in the realm. Players could launch the broomsticks by using a launch pad accompanying the item. Cars were also introduced and could be made to fly if the broomstick was equipped. Along with this, candy buckets were also given to the player to carry for Trick-or-Treating.
The major addition of new hair colors and avatar editor was introduced with this event. However, the original Earth was removed for good due to its incompatibility with mobile users.
The Halloween Store
A new store was available in the Halloween Realm, purely for Halloween. Costume heads were available and all the items were free to wear during the event.
The costumes available were roblox bundles and not custom outfits. These included Crimson Claw: The Vengeful, The Crook, Blue Collar Cat, Dark Avenger, Snow Queen, Empyrean Armor, Frost Guard General, Firefighter, Halloween Witch, Astral Isle Apprentice, Penguin, Mechabloxxer, Snowman, Mummy, Werewolf, Vampire, Lord Griswold, Mr. Roboto and Frankenstein.
At the back of the store were Babies from the Enchantix Nursery that were wearing halloween costumes, and could be cared for like usual.
Town Activities
Also available were the new town activities. The Pumpkin Count contest was introduced, and players could win a diamond prize by guessing how many pumpkins were in their current server.
Apple bobbing was another new activity added. If the player successfully got an apple, they could win 20 candies.
A Witch's Hut was available to get drinks from. These included Radioactive Witches' Brew, Dragon Egg Witches' Brew and Blackheart Witches' Brew and were completely free.
To earn more candies, players could ring the doorbells of the houses in the realm. Once pressed, the door would open and candies would fly out at you. If you rang the bells too many times, an image of Slenderman or Ghost would appear in the door and your character would fly high in the air but not die. You wouldn't receive any candies either.
A maze was added at the far end of the map, which if completed, would award you with the "You Beat the Halloween Maze - Easy!" Badge.