This article is incorrect, outdated, or otherwise needs improvement.


Help fix the page

by editing it

.

The specific problems are: Needs rewrite into third-person (currently in second person)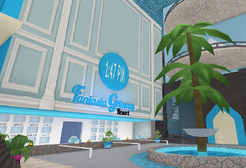 Fantasia Getaway Resort is a special side-area created by callmehbob and was originally released September 24, 2017. It was the first side-area of its kind to be added. Since then, the game has rapidly declined in popularity compared to the new Royale High.
Check-In
Instead of being staffed by players, like a majority of hotel games, the Fantasia Getaway Resort is run by NPCs. Players can click on a bell at the reception to check into any available, vacant room for 45 diamonds.
Staff
Players are allowed to act as staff for roleplay purposes.
There used to be a Team Change button in the character customizer that would allow a player to become a staff, but this has been removed as of the latest version. The default position is Hotel Guest. Most positions have special clothes that can be worn in the staff room. The job positions are:
Hotel Manager
Security
Housekeeping
Receptionists
Room Service
Rooms
Rooms are on every floor, and in every hallway, there is a black carpet which acts as a conveyor for easy and quick transport. To open the door, the player needs to use their hotel card.
Each room has the following features:
A clam-shaped bed
A thermostat to set the temperature in the room
A tea set, a water kettle, a candy stand and complimentary drinks
Two canopy beds and nightstands
A large screen window plus a balcony and beach chairs
A sitting area, TV and color-changing lights
Bathtub, closet, shower and mood button
A balcony that overlooks the water in front of the building
A fireplace
Hotel Features
Fantasia Hotel has numerous features, including a garden, salon, restaurant, water slide, and pool.
Trivia
Players can break into other people's rooms without a key card by using Shift Lock to look through the wall and use the mouse to click the unlock button inside the room This also works in other Royale High games such as Enchantix.
Community content is available under
CC-BY-SA
unless otherwise noted.