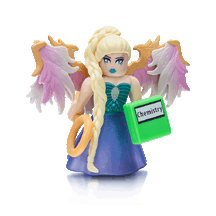 The Enchantress was the first Roblox toy to be released for Royale High. It is produced and distributed by Jazwares, under license from Roblox. This toy is part of the Roblox Gold Collection. The toy includes a figurine, two accesories (chemistry book and a dorm key from Classic Royale High), and an item redemption code for a virtual item called the "Enchantress Tress" in the roblox catalog hair/accessory section.
Description
Graceful as she is kind, this divine beauty roams the hallowed halls of callmehbob's Royale High School helping lost and nervous newcomers. There's so much to learn, classes to take, dances to study, and new friends to meet! The Enchantress will help you earn gems for your crown so you can spread your wings and fly at your new home.
In-game rewards
Upon redeeming the virtual code that is included with the toy, the player receives the "Enchantress Tress" hair for their avatar. The item can be viewed here: https://www.roblox.com/catalog/1665493267/Enchantress-Tress
As of September 7th, 2018, if a player has redeemed a code from the Enchantress they will receive an in-game in Royale High. The in-game item is called "Mood Changing Necklace", an accesory that goes around a roblox avatar's neck, and has a seashell in the shape of an auger/nutmeg seashell.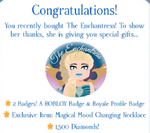 Community content is available under
CC-BY-SA
unless otherwise noted.