Earth was Royale High's lobby and was active from September 2018 to the release of Divinia. It acted as a way to travel to the different sub-worlds of Royale High, such as Enchantix and the high school itself. Earth was replaced by Divinia on February 1st, 2019, however, Earth was re-released once again on August 31st, 2019.
Modern Earth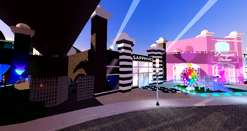 Earth was re-released as a modern lobby on August 31, 2019. According to the main developer of the game, callmehbob, this area was based on a real-life location, being Beverly Hills. In this newer version of earth, there were NPCs driving in cars along the street and into one of two tunnels. Walking near a car would trigger random dialogue, which was written by kateka22. Once the Fall/Autumn update came out, the NPCs went from summer cars, to country style trucks. The random dialogue also changed. It was very different from the original Earth, which only contained one section and a few shops.
Locations
In this update, the Town Fountain was introduced, with the arival of Earth returning on August 31st, 2019 the Fountain was updated. Allowing players to either win or lose diamonds, win nothing or win a random amount of XP, and very rarely win a halo.
With the update bringing Earth back and replacing Divinia until the project of the New Divinia is completed a tower was added. At the bottom of the tower you could walk in and see the top 100 highest leveled players in the whole game, the levels of players in your server and the top 100 supreme royalty winners. Whereas on top of the tower there is a spa with towels, a bath, tables with teapots on them and a bed, in the past this was limited to Flight Pass users only but as of now everyone can fly on Earth.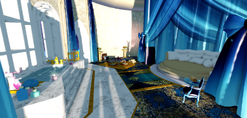 As of this update it is now possible to walk into the Dimension Mobile store.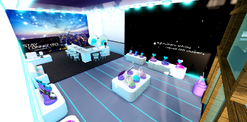 Players can access all other areas within the game via Earth, using the Carriage to travel to
New Royale
, a room full of portals leading to the three "Older" games, being
Enchantix High
,
Fantasia Resort
, and
Classic Royale
, players can access
Sunset Island
by taking one of the three boats at Sunset Dock on Earth.
Modern Earth Events
In October 2019, Earth took on the Fall/Autumn update. This included an appearance change to Earth, and a find-the-candy Halloween Event at the designer boutiques.
As of the Fall/Autumn 2019 update you can enter the Cafe and buy some Festive foods and drinks from last year but also a few new foods from this year.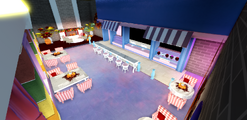 Trivia
Players weren't able to access any shops, as the developers announced they would release it in a future update. However, the shops were never implemented. Earth was replaced by Divinia on February 1st, 2019, however, Earth was re-released once again on August 31st, 2019.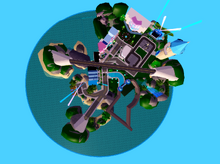 The music found on Modern earth can be found here:
- 'Red Carpet Ride' by John Shakespeare
Past Earth
In the past, Earth was a part of Enchantix High. Players could gain a 2D image, which would follow them. The images were of pets shown in the TV show Winx Club, as this is what Enchantix High was based on. Players could look at skirts, buy clothes for dances (where players would be teleported to when the dance time came), and explore the area.
Once Enchantix was updated to the version it is today, Earth was removed and was never seen again until September of 2018 when it was re-made into Modern Earth and used as a lobby (replacing Diamond Beach).
Past Earth became unnecessary as the hair and clothing interface was developed, as players did not have to travel there to change their outfits. The lag for many devices was also a condemning issue for old Earth's removal from the game.
The music on Earth was a collection of songs from the show Winx Club and was also played in Alfea (The main Enchantix campus).
Community content is available under
CC-BY-SA
unless otherwise noted.