Earth was Royale High's lobby and was active from September 2018 to the release of Divinia. It acted as a way to travel to the different sub-worlds of Royale High, such as Enchantix High School, and Classic Royale High. Earth was replaced by Divinia on February 1st, 2019, however Earth was re-released once again on August 31st, 2019. On December 14, 2019, Earth was replaced by a Winter map.
Modern Earth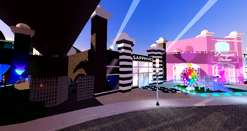 According to the main developer of the game, callmehbob, Earth is based on a real-life location known as Beverly Hills. In Earth, there are NPCs driving in cars. From the release, the cars have been summer convertibles, but during the Fall/Autumn 2019 update, the cars have been changed to country trucks. The Modern Earth has many shops, a spin wheel, and a portal to different realms.
Locations
The Town Fountain
In this update, the Town Fountain was introduced. With the arrival of Earth returning on August 31st, 2019, the Fountain was updated. This allowed players to either win nothing, win or lose Diamonds, win a random amount of XP, and very rarely win a halo.
Sapphire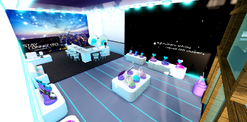 Sapphire is a makeup store not available for players to access. It is probably based on Sephora, with the same black and white paint style.
Dimension Mobile
Dimension Mobile is a store selling cell-phones. The store is useless, as cell-phones are freely available to players.
Town Wheel
The Town Wheel is a wheel players can spin daily to get Diamonds, as well as accessories for their character. The spin wheel was originally for players Level 5 and higher, but now all players any level can spin for a prize!
Designer Boutique
The Designer Boutique is a transport hub to many homestores by many original Roblox clothing designers. It has an iconic "OPEN" neon sign.
Modern Earth Events
In October 2019, Earth took on the Fall/Autumn update. This included an appearance change to Earth and a find-the-candy Halloween Event at the designer boutiques.
As of the Fall/Autumn 2019 update you can enter the Cafe and buy some Festive foods and drinks from last year but also a few new foods from this year.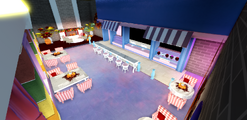 Trivia
Players weren't able to access any shops, as the developers announced they would release it in a future update. However, the shops were never implemented. Earth was replaced by Divinia on February 1st, 2019, however, Earth was re-released once again on August 31st, 2019.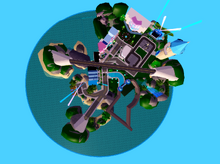 The music found on Modern earth can be found here:
- 'Red Carpet Ride' by John Shakespeare
Past Earth
In the past, Earth was a part of Enchantix High. Players could gain a 2D image, which would follow them. The images were of pets shown in the TV show Winx Club, as this is what Enchantix High was based on. Players could look at skirts, buy clothes for dances (where players would be teleported to when the dance time came), and explore the area.
Once Enchantix was updated to the version it is today, Earth was removed and was never seen again until September of 2018 when it was re-made into Modern Earth and used as a lobby (replacing Diamond Beach).
Past Earth became unnecessary as the hair and clothing interface was developed, as players did not have to travel there to change their outfits. The lag for many devices was also a condemning issue for old Earth's removal from the game.
The music on Earth was a collection of songs from the show Winx Club and was also played in Alfea (The main Enchantix campus).
Community content is available under
CC-BY-SA
unless otherwise noted.