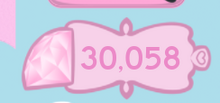 Diamonds are the currency in Royale High, which can be used to buy in-game items and other interactive activities.
Obtaining
There are multiple ways to obtain diamonds:
Purchasing them from the currency shop with Robux, which can be found above the right-hand side menu, or tapping the diamonds icon.
Leveling up, which gives 300 diamonds without multipliers. With the 2x multiplier, the player receives 600, and with 4x, the player gets 1200. Owning both gamepasses gives 1800 diamonds.
Collecting diamond spawns in various realms
Going to the town wheel or fountain; depending on the outcome they may get diamonds or another reward
Winning Supreme Royalty at New Royale Ball.
Winning king or queen or doing limbo at the Classic Royale High ball
Participating in the Royale Universe Pageant in Sunset Island
Logging in every day to receive the login reward from the computer in the High Rise apartments
Finding chests that contain diamonds in it
Dancing with others at the New Royale Ball
Playing the Bubbles minigame, a minigame to prevent counter-measures against roblox's 20-minute timeout limit
Diamonds have also been given as a reward in various events, usually from designer homestores, chests, or diamond eggs. Additionally, diamonds can be gained through trading at the Intergalactic Trading Hub.
Uses
Players can purchase items such as Skirts, Shoes, Wings, and Accessories with diamonds. They can also purchase furniture for their dorm.
Diamonds can also purchase food at certain serving areas and ordering stations, or a room at Fantasia Getaway Resort.
Currency shop
Diamonds can be purchased with Robux in the currency shop window, named the Diamond Galleria. Gemma hosts the Diamond Galleria, where she farms the diamonds that are purchased. Star codes for Roblox Video Stars that prominently make Royale High videos are also featured for those needing to purchase Robux.
Current diamond purchase rates

Diamonds
Robux price
Ratio (Diamonds:Robux)
250
25
10:1
500
50
10:1
1000
100
10:1
2500
200
12.5:1
5000
400
12.5:1
12000
800
15:1
25000
1500
16.6:1
40000
2000
20:1
70000
3000
23.3:1
100000
4000
25:1
140000
5000
28:1
240000
8000
30:1
Old currency shop
Prior to May 8, 2020, a different shop and different rates for diamonds were used.
Old diamond purchase rates

Diamonds
Robux price
Ratio (Diamonds:Robux)
175
25
7:1
400
50
8:1
900
100
9:1
2000
200
10:1
4400
400
11:1
10000
800
12.5:1
18500
1450
12.76:1
26000
2000
13:1
Gallery