This article is incorrect, outdated, or otherwise needs improvement.


Help fix the page

by editing it

.

The specific problems are: needs organization, inaccurate

Diamond Beach was the first lobby for the game. From there, players could go to Royale High, Fantasia Getaway Resort, or Enchantix High. It was replaced by Private Oasis until the 2018 Earth update was released.
Locations
Players spawned around a fountain and were greeted by buildings in which they can teleport to any of the three realms listed above.
Ahead, there was a beach that had a lighthouse nearby which contained a functional elevator inside. The ocean had waves moving alongside the fish and seaweed.
On the edge on the ocean, there was a tunnel that led to a secret room.
In the room, there was a seashell seat, a radio that played songs through Roblox IDs, and a TV that could be triggered on or off.
Diamonds
Diamonds spawned in various locations across the lobby; In both underwater and on land. When collected, each diamond would add a set amount to a player's balance, most common being 1.
Every so often a giant pink diamond would spawn on top of the highest turret on the Royale High building. Normally, the diamond would give 300 diamonds. However, the amount could increase if the player has either (or both) of the X2 and X4 diamond gamepasses.
Private Oasis
During August of 2018, players spawned in the private oasis instead of the diamond beach. Only temporary, this realm was created so that players could load in their inventory faster for the new Earth update so that it could prevent data clog from occurring.
This realm was smaller and had a fewer maximum of players in its servers. It resembled the diamond beach however many buildings and features were taken out; There were still diamonds however there the amount it had was fewer than the ones you could find on the diamond beach.
Players were able to teleport to Royale High, Fantasia Getaway Resort, or Enchantix High nonetheless and could jump higher. The map had many tropical elements such as a volcano located nearby and a lighthouse that radiated light through the starry skies.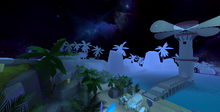 Earth replaced it as lobby between August and September, however, it could still be accessed through Earth. It was much more smaller than it originally was and was there for the same purpose as before. It was later removed when Divinia replaced Earth.
Music
Community content is available under
CC-BY-SA
unless otherwise noted.