This article is incorrect, outdated, or otherwise needs improvement.


Help fix the page

by editing it

.

The specific problems are: Reorganize to separate the contents of the old campus and new campus events, rewrite into third person (currently in second person)
The Royale High Dance is an event that occurs in both the Classic Campus and New Campus. The dance starts at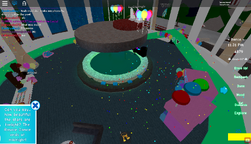 8:00 P.M. and ends at 12:00 A.M., this applies to both Classic and New Royale. The dance area is still visible and usable until 2:00 A.M. in Old Royale, but this was removed in the New Campus, as players are kicked out right after and the ball area is deemed inaccessible. The New Royale High Campus didn't have a dance implemented alongside it until January 19, 2019, along with many notable changes.
Old Campus Dance
At 10:30 PM, all players are given a dialogue box asking them to vote for the Royale High Dance King and Queen. Players cannot vote for themselves, nor can they vote for another person twice (Due to one boy and one girl being the choices for Voting). When the voting GUI appears, each player on the server will appear with a picture of their ROBLOX avatar next to their roleplay name. The King & Queen are announced at 11:00 PM and each will earn 500 diamonds, and a free bouquet of roses if they go to the gifts area. The king and queen will also be teleported to the two thrones that sit on the platform above the fountain.
Players are also able to play limbo at the party. If they are successful, they earn 25 diamonds.
During the dance, players can purchase the following:
Bouquet of roses - 500 diamonds

If a player wins Prom King or Queen, they are able to get their bouquets for free.

Punch (free)
Cookies (free)
Cake (free)
Marshmallows (free)
Brownies (free)
Candy (free)
Balloon (free, limited to 1 per dance)
Old Campus Dance Music
New Campus Dance
The New Campus's Dance is now considered a ball, appearing a lot more expensive and fancy in taste. The title of Prom King and Queen was replaced by two Supreme Royalties. Formal introductions were added and occur at the beginning of the dance. Players can choose whether to participate in said formal introduction or not. if they choose to participate, Players can choose which title they would like to be introduced as, and which action they would like to perform as they enter the ballroom. Butlers will walk around serving a variety of dishes, some include drinks, pastries, and hors d'oeuvres
There is a new "dancing" mini game where two players work together by pressing the correct arrow keys. Diamonds are given each level, reaching up to level 8. 10, 20, 30, 40, 60, 80, 100, and 200, totalling to 540 diamonds. As of now you can't play the dance minigame because it's bugged.
The two winners of Supreme Royalty get sashes for the time they are in the server alongside the 500 diamond prize they earn. You can choose whether or not to run for Supreme Royalty.
Trivia
A limbo tip to make diamond grinding much easier on the old campus can be done by standing on top of the limbo bar and using 'The Running Man' action under the 'Moods' tab. By doing this, the player's character limbos automatically, and they will not have to put in any effort. (Old Campus)
Bouquets and other dance items can be given to other players as gifts by pressing the backspace button on your keyboard. (Old Campus)
The King & Queen can receive free bouquets if they win their place. (Old Campus)
Sometimes the new dance will glitch, causing players to be unable to dance, or get trapped behind a second entrance door. (New Campus)
There is a glitch that causes the butlers' heads to turn square. (New Campus)
Very rarely, bugs can occur, causing the voting and dance mini-game (relating to 4) to not work, as well as causing the butlers to over-spawn; this has currently not been fixed. (New Campus)
There is a bug that can make the butler's trays face downwards or sideways.
Occasionally, the ballroom will glitch and disappear, causing everyone in the vicinity to fall to their deaths (as the "room" is placed high above ground). You can survive this by flying to the school downwards.
If you are doing the dance mini-game, it will pause during Supreme Royalty votes and completely stop when the dance is done.
Sometimes, when you formally enter the ballroom, you may actually turn around, and walk out to the lockers instead. (New Campus)
Community content is available under
CC-BY-SA
unless otherwise noted.