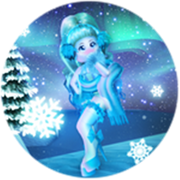 The Christmas event in 2018 began on December 2nd. Earth became Christmas themed, covered in snow and ice, meanwhile, New Royale High became an ice castle. Various new items were made available for the holiday season.
Joining on December 25, 2018 rewarded the "Royale Christmas 2018" badge.
New Items
Wings
6 new themed wings were introduced for the event, along with the previous year's festive wings.
| Wings | Price (Diamonds) | Image |
| --- | --- | --- |
| Mini Gingerbread Wings | 2,750 | |
| Mini Figure Skater | 3,000 | |
| Cozy Flannel Bow Wings | 3,000 | |
| Figure Skater | 7,000 | |
| Special Wrapped Presents | 7,500 | |
| Frozen Angel | 15,000 | |
Heels
The Thigh High Ice Princess Boots were added on December 2, 2018, and were sold for 36,500 diamonds.
Ice Glam Vanity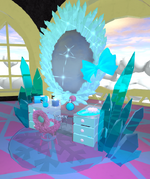 On December 7, 2018, the Ice Glam vanity was added to the shop. It costs 25,000 diamonds and its design features many icicles and snowflakes. There is a limited edition hair dryer, hairbrush, and makeup brush that comes with the vanity. They are blue in color and have a snowflake design on them.
Although this was said to be limited it is onsale all year round.
Halo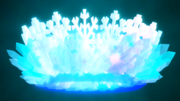 The Winter Crystal Halo 2018 was introduced for the winter months.
The Fountain also recieved a winter makeover and was completely frozen over.
Santa's Gifts
Inside the log cabin on Earth, there were a stack of trays where players could decorate and add cookies. This included customizing the type of cookie, the color of the icing, and the image that was on them. Once completed, the cookie was placed on the display with the players username hovering above the cookie, and was left for Santa.
After some time, the player could hear jingle bells and see Santa and his reindeer flying onto the log cabin roof, an NPC Santa would drop down from the chimney, eat the cookies, and add presents around the room for players to open. Players could only open one present per Santa visit on the server. The player would have to walk on top of a present to receive it, and a pop-up would show on their screen, listing the item they had received.
Reward accessories
The new accessories added to Santa's gifts in 2019.
Community content is available under
CC-BY-SA
unless otherwise noted.