The Autumn Town realm is a temporary realm that was accessible during the Royale High Halloween Event during the years 2017 and 2019. The two versions of the realms were set up very similarly with the players being able to visit houses to trick or treat for candies, and both versions also featured a maze. Players were also able to go apple bobbing and buy exclusive autumn themed treats from the stalls. When joining Autumn Town for the first time during the 2019 event, players were given the "Royale High Halloween 2019!" Badge.
Accessories
For the Halloween 2019 Event, the Accessories from the Halloween 2018 Event were put back on sale for a price of candies instead of diamonds, which were earn able by trick or treating as well as apple bobbing.
Houses
Players could trick or treat at the houses located on the island, that they could get to by flying or driving in a car which they could spawn from the gui. When players clicked on the doorbell of a house, candy would be thrown at them which they can then collect, or the creepypasta "Slenderman" could appear and fly at the player, which would kill them if it hit the player.
Maze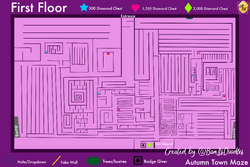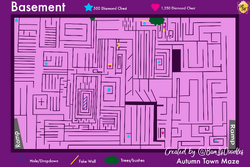 The Super Hard Maze 2019 was located at the back of the houses and had two floors; the basement and the first floor. The basement could be accessed by using the ramps at either side of the maze, or through a hole in the center of the first floor, though this would get the players stuck in a closed room. On the first floor, the players could navigate to a giant chest worth 3,000 Diamonds, and a badge giver that would reward the "Completed Super Hard Maze 2019" Badge with a description that reads: "You managed to find your way through this super hard maze in Autumn Town! Wow! How long did it take you? What kind of treasures did you find?"
Community content is available under
CC-BY-SA
unless otherwise noted.